We're in training again!!!
Stillpoint Running Team to compete in the Vitality Bath Half Marathon
"Raising money to provide FREE osteopathic care for newborn babies in Bath"
   Sunday 12th March 2017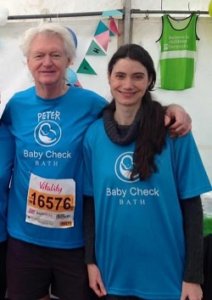 After our success last year we are re-entering the Vitality Bath Half Marathon in support of Community Interest Company, Baby Check Bath. www.babycheckbath.org
They provide FREE osteopathic care for new born babies during the first few months of their lives. Families on low income are signposted to the clinic by health visitors, midwifes and lactation consultants.
These babies are often distressed, cry for long periods of time and are difficult to feed and soothe.
450 babies have been treated so far.
We would like to help them with the funding for this valuable service which has been operating for two years now and getting busier.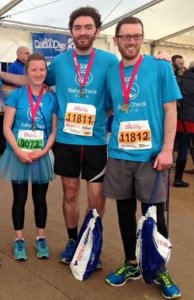 They want to raise the bar on donations so they can continue their vital research ambitions by focussing on difficult feeding issues. They also want to expand the clinic times offered by Baby Check CIC. At present, they have a 6 week waiting list and they dearly want to reduce this waiting time for parents and babies at this critical stage of the baby's growth and development.
We raised over and above our set target last year and hope we can do so again, with your support.
Just click on the button below to donate or visit www.localgiving.com/stillpoint
Your sponsorship will be greatly appreciated and will make a huge difference to the Baby Check Clinic.
Many Thanks