Our Mission
Baby Check Bath is a pioneering registered charity dedicated to providing a free osteopathy service to babies whose families would not otherwise be able to afford it. These babies are distressed, cry for prolonged periods of time, and are difficult to feed and soothe. Their early days and weeks can be very challenging both for them and for the whole family.
We believe that osteopathy has an important role in helping these babies to feed and settle; helping families to enjoy the first few weeks of life.
Our Aims
We will provide osteopathic assessment and treatment for up to 200 babies per year, free of charge

We will establish strong partnerships with other Paediatric Health Professionals to create an exemplary model of best practice in the care of the newborn

A key target is to develop robust research on the role of osteopathy in helping babies and families thrive.

Fundraising will support this vital work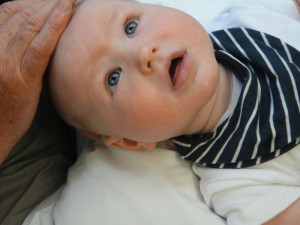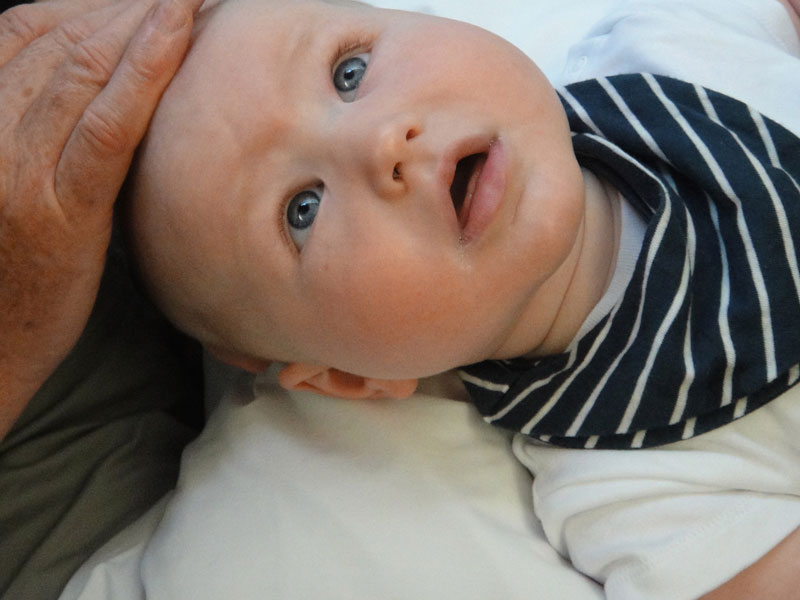 The seeds of this project have already been sown, we now need fertile ground to nurture and help them to grow.
The Story
Reaching out to provide osteopathy for babies in need in the community started in Bath in 1997. Peter Cockhill, local osteopath, was approached by Health Visitor, Georgina Stanton, requesting an osteopathic service for distressed babies in a GP surgery. Many of the babies in her case load were having problems feeding, were very distressed, cried for long periods of time, had problems with reflux and colic. She had noticed that some of her client babies had shown great benefit from osteopathic treatment and was passionate about making this available, free of charge, to all families registered with the Pulteney Practice. This was a bold initiative made possible by the funding arrangements at that time and the willingness of the senior GPs to back a new service.
This free baby osteopathy service was hugely successful. A service evaluation was carried out with the National Council for Osteopathic Research. Parents provided valuable data on the benefits of treatment to their baby and the family.
The service was evaluated twice over a period of 5 years and the project won an award at the 'New Initiatives in Primary Care' competition for the South West Health Authority.'
Parent testimonials from first project
My baby screamed and vomited almost constantly when he was born. His transformation was remarkable. He is now a very calm and happy child. I feel this directly linked to the treatment.
Within the first treatment, he seemed to settle and sleep a lot better. I have found the treatment he has been receiving immensely beneficial. His head shape has improved with each treatment
The service continued despite funding difficulties with changes of government and health priorities. As osteopathic treatment for newborns was demonstrated to be so beneficial, the mission became to make this service available to ALL babies in need in Bath irrespective of geographical limitation, which was acting like a post code lottery!

A purpose built center that could house both a clinic to treat babies and a studio to practice Karate and other martial arts was the long held dream of Peter Cockhill (Osteopath) and Adrian Baker (inspirational friend, martial artist and visionary). It took many years to find the ideal central location to develop. We designed beautiful yet functional  spaces to accommodate an open plan  osteopathy clinic for babies and families, further treatment rooms and a martial arts Dojo above.
The design of the baby clinic enables several osteopaths to work together at treatment tables in the same room. This has been shown at the Osteopathic Centre for Children in London to provide the best reassuring clinic setting for treating babies and families.
In over 30 years of providing osteopathy in Bath, we had built a team of osteopaths experienced in the treatment of children and now were in a position to develop the new service. After exploratory discussions with the Health Visitors, we opened the doors to the new Baby Check Bath clinic in January 2015. The clinic runs with a staff of 5 osteopaths and a volunteer breastfeeding counsellor. From the very first clinic we were fully booked and have been ever since. We are now in the unfortunate position of having a waiting list, which is not beneficial to parents needing urgent assessment and treatment for their babies, particularly those with feeding difficulties/failure to thrive.
As part of our mission, we encourage Health Visitors, Midwives and Lactation Consultants to prioritise families that would not otherwise be able to afford or even consider private treatment
Research
Our initial Baby Check research has provided data for analysis to measure the effectiveness of osteopathic treatment and the value of the service to the family, as perceived by the parents. The results of the first 12 months of data collection have been extremely positive.
The first 60 parent questionnaires included a visual analogue scale with 10 "very helpful" and 1 "not helpful", see below:


Parent testimonials from current project:
"This was amazing. My son jumped up percentiles and now sleeps 10 hours!"
"Reflux vast improvement, so much so we have stopped gaviscon. Extremely pleased with the care and attention we received. Very thankful for the treatment."
"It felt like the last place to try before giving up breastfeeding, having seen lactation consultants, breastfeeding counsellors, having tongue snipped. Definitely enabled me to keep breastfeeding. Amazing! Thank you!"
"As part of appointments we received really excellent breast feeding support as feeding has improved J is increasingly settled."
"This is an absolutely fantastic service and wonderful to have it available to all families in Bath-we are lucky indeed! Thank you!"
"I was a little sceptical at first but couldn't believe what a difference the treatment made to E. She is much more content and relaxed. Just keep doing the magic you are doing."
"Coming to the clinic with my 6 week old baby was the first time I had left the house and the atmosphere/people put me at ease. Very reassuring meeting other Mums with similar problems as us."
Budget
Our annual budget is in the range of £50,000. This sum funds the running costs of the baby and mother clinic and the important research program in collaboration with the University of Bath. It guarantees a safe, professional and sustainable clinic for the babies and mothers.
We rely on individual donations, grants from trusts and research bodies from within the osteopathic profession not forgetting marathon runners!
We are grateful for the funding support given by our online donation organisation, Local Giving, which allows us to reclaim Gift Aid on donations.
In the longer term…
We want a service that can respond to the immediate needs of distressed babies and families. We want this service to be free at the point of delivery. We want to work towards this service being recognised and funded from within the NHS.
We want to continue to fully evaluate the service and collect data and evidence to support the part that osteopathy can play in the treatment of babies and in supporting the whole family. Annually, 182 new mothers in B&NES are at risk of postnatal depression which is known to be associated with the difficulties of caring for a new baby. Data is emerging that points towards the importance of breast feeding for long term health – especially with reference to childhood obesity, immunity and the prevention of type 2 diabetes – a major health problem, affecting younger and younger people. UNICEF reports the UK in the bottom third of the developed world in terms of low birth weight rates, a strong predictor of longer-term health problems.
Baby Check membership of the newly formed Sirona Infant Feeding Forum is an exciting development, particularly in establishing partnership working with the Health Authority and in planning research. We are keen to develop specific research trials to study the effect of osteopathy in supporting breast feeding and are developing research links with University of Bath and the Royal United Hospital. There is a large variation in breast feeding prevalence rates between wards in B&NES and breast feeding rates are known to be effected by deprivation. We plan to study the wellbeing of mothers attending Baby Check as part of our work in supporting families. We are looking to provide a service to our local Neonatal Intensive Care Unit to work with premature/low birth weight and complex needs babies.
Testimonials from healthcare professionals
As someone who has personally benefitted hugely from osteopathic treatment and who specialises in working with children, I think it is fantastic that Baby Check is now available to increase access for young babies to an osteopathic assessment and treatment, and that it is provided in a group setting that is so supportive and positive.
As a health professional with 33 years of experience working with infants, children and carers specializing in physical and mental health, I would have no hesitation in recommending the very professional service offered by the registered osteopaths at Baby Check Bath. I find the expert service they provide invaluable to babies that have had difficult births and feeding problems.
Help us to continue to expand and support our vital research